Paysafe is a global provider of payment solutions, trusted by businesses and consumers to move and manage billions of dollars a year. From online to in-store payments; from merchant acquiring to payment gateways; from alternative payments to omni-channel and secure cross-border e-commerce; from white-label credit solutions to mobile order and delivery platforms, Paysafe offers businesses an unbeatable one-stop solution.
Paysafe is a business of substantial scale employing over 3,000 people in more than 12 global locations, with an annualised transactional volume of over $92bn US in 2020.
The Case
The right focus on people management and strategy in workforce planning can make all the difference between bad, good and great employee experience and talent retention. This is why the leading payment solution company Paysafe has purposefully decided to put the focus on their leaders in the process of talent management and people development.
Paysafe wanted to encompass the end-to-end process of talent acquisition, optimization, and retention by providing continued support for their business leaders and guidance for the employees of the organization. In order to achieve this goal, our partners from Paysafe turned to LS-S Leadership Support for creating a specialized learning course for their leaders that can cover all aspects of how their employees and teams work, behave, engage and grow at work. Their leaders had to learn:
What motivates different people and how to delegate work accordingly
How to align employee development goals with the organizational objectives
How to create a strategy for developing the team (individually and as a group)
What are the different instruments for people development (delegation, feedback, coaching)
The Solution
Our response to this request was more than clear: learning through experience. LS-S Leadership Support developed and implemented a tailor-made business simulation learning approach that brought the key aspects of talent management to life in an engaging and interactive way. By the means of experiential learning leaders of Paysafe became delegates in SIMTalent Online Board Game Simulation. During the business simulation Paysafe's leaders were able to lead and develop a team of individuals – all varying in profile and performance. They could evaluate employees' individual strengths & gaps, analyze their team's structure, make hiring decisions. Within the business simulation leaders had the opportunity to set up individual development plans and decide where to invest time and budget to bring the team forward. The most important aspect of this interactive learning approach was that all participants experienced with their team members real challenges mimicking business reality. In addition, after handling these challenges participants witnessed the impact of their decisions on motivation, competence, retention risk, budget, and people development strategy.
The Results
What we have achieved with our partners from Paysafe is that their leaders got a first-hand experience on how they and their company can win the race for talents and propel the performance. All the participants in the business simulation considerably improved their skills in talent development, team development and succession planning. Furthermore, SIMTalent allowed them to compete in teams to make talent assessment and development choices and to optimise talent ROI. In addition, mimicking real life tasks, the participants were able to evaluate each team member based on his/her pre-defined personality/task profile, promote selected team members to new positions and responsibilities and develop a solid succession plan for the team members, the team leader and organisation as well. By creating a more informal environment during the business simulation, we've succeeded in provoking constructive discussions among participants and encouraging them to share good practices.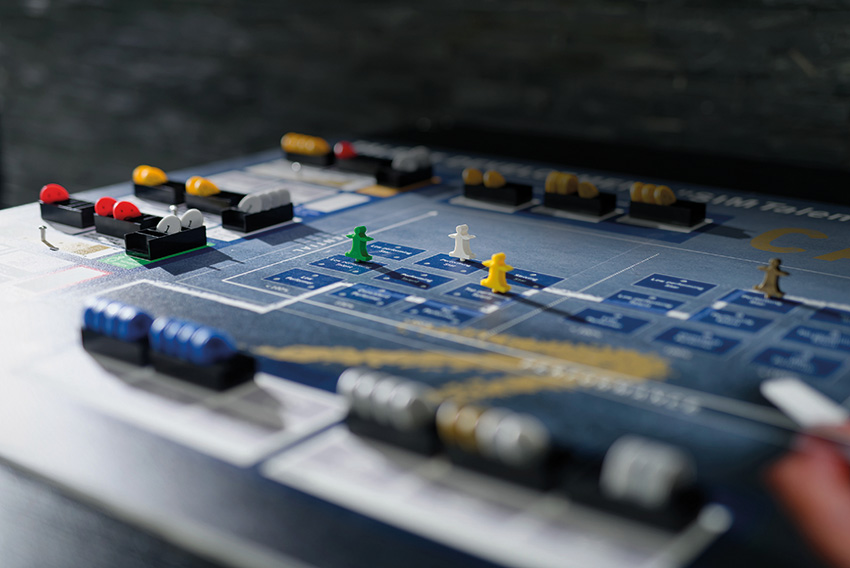 SIMTalent made learning engaging and made it stick. The simulation not only brought talent management to life but cemented the business rationale for investing in talent development and succession planning. We've made the optimal combination of sustainable learning and interactive and engaging experience for our partner Paysafe!
LS-S Leadership Support delivered for Paysafe a tailor-made business simulation for 20 employees, located in Bulgaria. The simulation provided learning and solutions how to attract and retain high performers, as well as to win the race for talent and propel performance. The workshop got 100% satisfaction and attendance rates from our employees. LS-S Leadership Support's extensive training delivery expertise coupled with innovative approach made learning journey very engaging and as a result effective for our employees. We would highly recommend LS-S Leadership Support as a reliable and professional partner in delivering highest quality training services."

Emil Minev Snr. L&D Consultant and Programme Manager Paysafe Group
SIMTalent is a solution from our partner company SIMDUSTRY.
Related product