We are pleased to present the results of the third international survey of Leadership Support in partnership with the German-Bulgarian Chamber of Industry and Commerce and Business Mark Romania on the topic "Hybrid work is the new challenge. How are we preparing our company for the changes ahead?" by Leadership Support. The survey took place in the first half of 2022 and involved more than 250 companies across 27 industries.
It is a continuation of our campaign supporting the business we launched during the pandemic. We aim to allow companies to benchmark themselves against other businesses to gain inspiration for planning their next steps by analyzing key aspects of how other organizations are tackling today's key challenges: employee retention, remote leadership, and change processes.
Our survey report is an essential part of the campaign and we are excited to share it with everyone for free.
Highlights: The battle for talent, inflation, and the need for new leadership skills
According to the data, the impact of current global turbulence such as inflation, the war for talent, the Great Resignation, and disrupted supply chains continue to be serious challenges, and 49% of companies identify employee skills as a growing issue in 2022.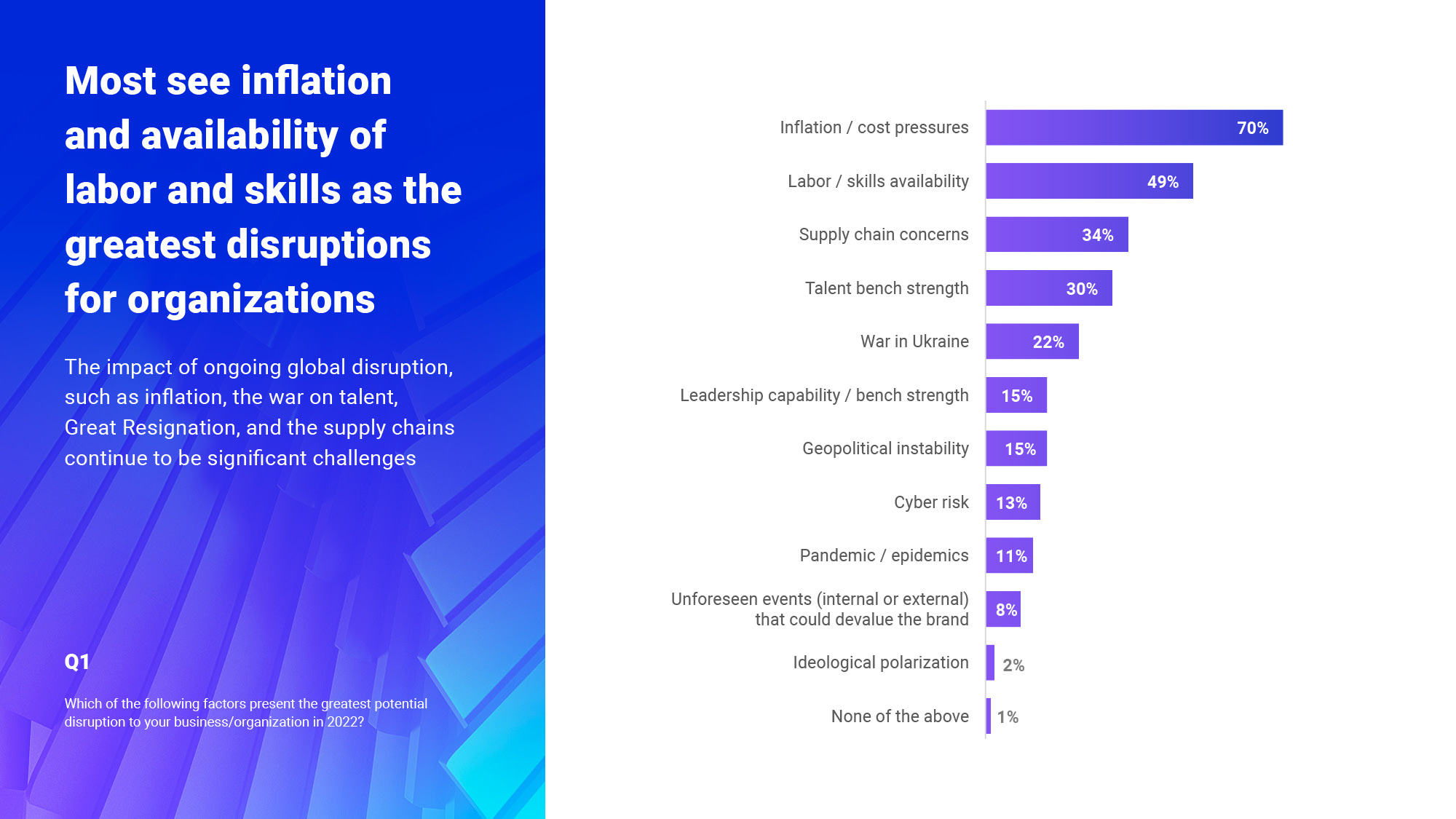 The results confirm the trend that the most perceived need for change and concrete plans to implement it for companies is in talent development strategies at nearly 50% of organizations and data use and management at over 55% of respondents.
Compared to the previous year, in 2022, talent attraction and retention issues have increased, with 50% of organizations saying they experienced greater difficulty attracting high-quality employees this year.
Employee retention is a growing problem. More than two-thirds of the respondents experience difficulties related to higher pay expectations from employees. In addition, the limited supply of human resources in the labor market is cited by 50% of companies as a serious challenge. This demands the implementation of new measures to retain employees in a hybrid work environment, such as flexibility in work commitments (where, when, and how employees work) implemented by 65% of organizations. In addition, more than a quarter of respondents pointed to looking after employee wellbeing, as well as offering people ongoing development opportunities, as a key retention element.
The report offers interesting statistics on 11 questions that LS-S addressed to companies. More than 50% of the survey respondents were managers and HR leaders, with mid-sized companies having the highest participation rate.
Comparison of results for Bulgaria, Germany, and Romania
Leadership Support conducted the study in parallel in Germany and Romania, and in the report, you will get an interesting comparative analysis of what issues organizations face, what are the challenges of managing in a hybrid environment, how they retain and attract employees, and what are the work-life balance measures.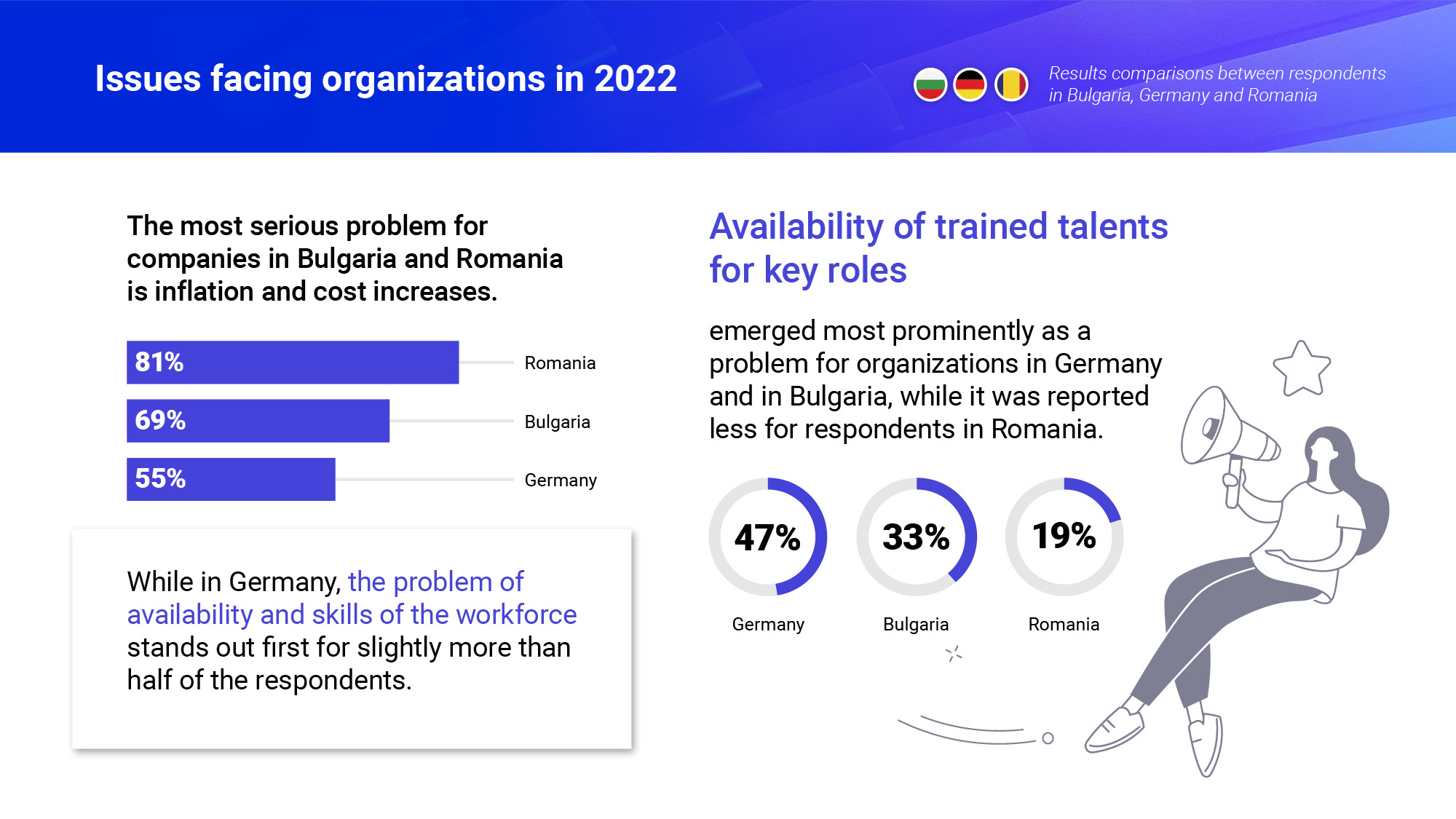 A key focus of hybrid management in all countries is also promoting work-life balance. Additional paid leave, Fridays without meetings, flexible work schedules, and additional unpaid leave are in place in two-thirds of the organizations.
LS-S would like to thank everyone who participated and contributed to this study.