In the world of business, important things are never done by one person. They are always done by a team of people. However, building a good team is not easy. It starts with identifying, engaging and taking care of the employees with great potential at all levels in the company.
To create and grow strong and effective teams, you need to focus on talent development in a strategically justified manner. You can do this if you know each member of your team well if you are aware of their strengths and weaknesses, understand what motivates or dampens each person's enthusiasm, track their individual progress regularly, eliminate as much as possible the risk that certain qualities and skills of the employees may remain unnoticed, know how to unleash their potential in the best way for each of them, and of course, at any point, be able to assess the risk of that employee quitting and the consequences for the company.
The indicators to monitor are quite a lot. Still, if you manage to create a unified talent identification system for all teams in the company based on common rules and criteria in your company, you will have no problems in this regard. What's more, you'll be able to build a clear vision of the potential of individual talents across teams and divisions and follow their development over time.
But where to start? First, determine the factors based on which you'll regularly evaluate your team members. Here are the indicators that you should keep in mind:
1. Performance
2. Potential
3. Knowledge and skills
4. Engagement
5. Leadership potential
6. Ambition
7. Motivation and seld-confidence
8. Energy
9. Loyalty
10. Market attractiveness
11. Strategic relevance
12. Availability in the market/internal succession
Create a scheme with different categories or development areas where you can position each talent on the team based on the reflections you will regularly make using the indicators you have set. This way, you will always know which employee falls into which category and what would be the appropriate development measures for the employee falling into that category.
If you find the process complicated, try the free Talent Portfolio App, which lets you quickly and easily create a portfolio of the talents in your team, assess them periodically according to 12 preset talent identification factors, and track their development over time, supporting each of your people in the most relevant and effective way. Within the app, you can make individual assessments of your employees, get a talent portfolio overview, and take advantage of a classic portfolio analysis that positions your team members in a 9-square matrix according to their performance and potential.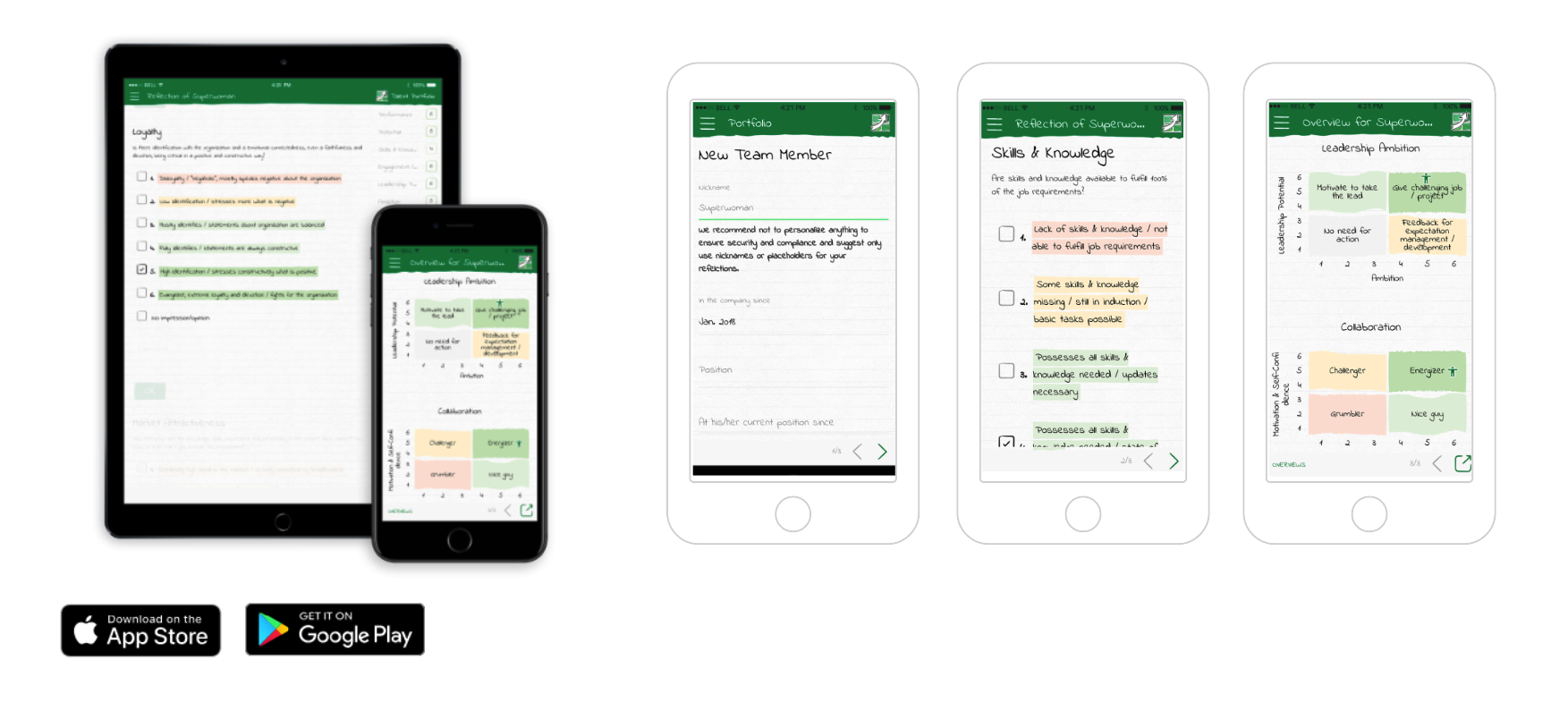 If you need more in-depth analysis or need to track and compare the performance of more than one team/department/division, you can always migrate the information to the full version of the web-based Talent Portfolio digital tool. It not only facilitates the process of evaluating employees, analysing the collected data and taking adequate development measures but also generates dynamic reports and charts to position talents in different matrices, analyses HR risk and suggests development plans. By tracking the progress of each team member, the tool allows you to monitor how their matrix positions change over time as a result of the development measures you have taken. Based on the positioning of the talents in the different matrices and diagrams, you can make informed decisions and assess which development actions were successful and which weren't for every employee. In addition, you get an early signalling risk forecasting system that provides you with valuable hints about when and how to retain your top talents.
Besides, Talent Portfolio facilitates and simplifies the succession planning process due to its cross-division talent pool filtering options enabling every team leader to find the perfect match for their team.

Get more information about the tool here.